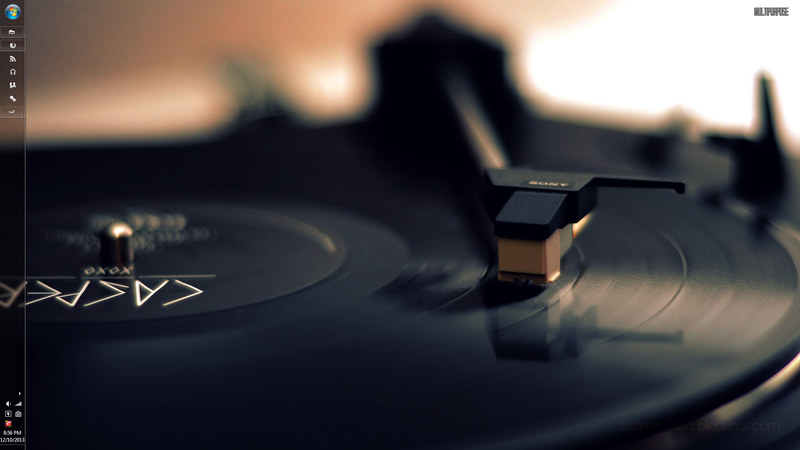 The now old "Nautilus" desktop interface was screaming for an update. It was buggy and quite hard to use outside the boundaries of everyday apps hacked to look good and be usable.

I now present the Clean Cut. Why you might ask?
I have been using this setup for a few months and have no problems. My workflow is easy and fast, while my desktop is clean and filled with cutting edge stuff.
Below you will find my theme goodies:
The theme is Seven and a Half

The taskbar is on the left, out of the way but easily accessible.
Modified taskbar icons called token icons
Dexpot for 5 virtual desktops (Steam [1], Web Browsing [2], Multipurpose [3], Multipurpose [4], Downloads [5])
Firefox with the FXOpera skin.

How I use this desktop UI
I Usually open steam when I first boot my PC. Then Alt-Tab to the next desktop for Firefox. The other desks stay open when I need them. I usually put Aimp (Music player) on the Downloads desk.

In my old desktop UI, I encouraged that people use rocketdock for its rich feature set. Not anymore! I have now use jump lists as an active part of my workflow, right-click on the folder icon and I have my quick links to all my favorite locations.
etc.
People that have used Ubuntu's unity UI might find this so "oh copycat" like that they will laugh at me for not using the original Ubuntu desktop. I unfortunately can't use Ubuntu as my main OS (Yet) due to driver problems. I also find that lots of unity users complain about performance issues with unity. That issues is not apparent here.